| | |
| --- | --- |
| | |

Simply a Way to Communicate


As the name implies, ICQ or 'I Seek You' is simply a clever way of getting in touch with people. This small program takes the complicated work of finding friends, colleagues and people with similar interests across the globe, people who could be communicating by email, chat, SMS, phone or pager, and makes it as straight forward as calling across a room and starting a friendly conversation.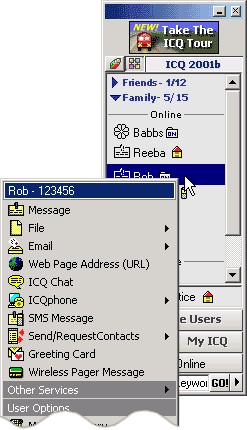 What Can I Do With ICQ?


The most popular method of communication on ICQ is instant messaging, enabling you to send a message that immediately pops up on an online contact's screen. ICQ also lets you chat, send emails, SMS and wireless-pager messages, as well as transfer files and URLs. ICQphone incorporates IP telephony functions enabling you to engage in PC-to-PC and PC-to-phone calls. Used in multiple-user mode, groups can conduct conferences or play games with ICQ. In fact, ICQ supports a variety of popular Internet applications and serves as a Universal Platform from which you can launch peer-to-peer applications.

ICQ brings together the most widely used methods of communication in the simplest way.



ICQ - The Community


ICQ is also a global community that puts you in touch with friends you already know and friends you haven't met yet. Just as search engines help you find information, ICQ helps you find people. The ICQ Community can connect you to people with similar interests, beliefs and passions whether you're looking for bankers, Buddhists or bachelors.

ICQ has amassed over 120 million users in more than 245 countries since its launch in November 1996, so whatever the topic, or the time of day, you can pretty much guarantee that there are people discussing it on ICQ. ICQ hosts an exciting range of community features including Message Boards, Chat Rooms, Interest Groups, ICQ Match, User Lists, Game Partners and Whitepages (people search).

And of course, if by chance an ICQ Community doesn't exist for your interest, it can be your initiative to start one.



How Do I Get Started?




Download - The ICQ software, is only about 4mb, it's free and compatible with Windows environments as well as Mac, UNIX , Pocket PC & Palm OS. Find the appropriate version for your operating system from the ICQ Download Directory and follow the simple instructions.



Register

- Get an ICQ number and fill in your details so that other ICQ users can recognize you and communicate with you.



Find Friends/Contacts

- Find old friends on the ICQ Network by entering name, e-mail address or ICQ number. Plus find new friends by searching by interest, country, language, age, gender etc. Once you have a person's approval, add them to your ICQ Contact List and start communicating.



Start Using ICQ

- ICQ will alert you when your contacts are online and you'll be able to send and receive instant messages in real time. If a contact is offline, or if another method of communication is preferable, ICQ also enables you to make contact by email, phone, sms or paging.




How Does It Work?


It's simple. When you install ICQ, the program asks you to register at a server, which is connected to a broad network of servers spanning the Internet. At the time of registration, you receive a unique ICQ number. In addition, ICQ gives you the option of entering personal information along with your ICQ#. This allows other ICQ users to recognize you when you log on. Once you've registered, you can compile a selected list of friends and associates. ICQ uses this list to find your friends for you. Meanwhile, ICQ waits quietly in the background without interrupting any other applications in use. As soon as you log onto the Internet, ICQ automatically detects the Internet connection, announces your presence to the Internet community and alerts you when friends sign on or off.